Black Tea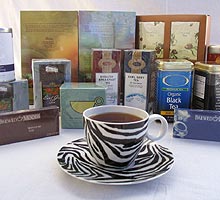 Black tea is produced from Camellia Sinensis. It is member of the Camellia family and is actually a tree. When cropped low to the grown, its top buds and leaves can be harvested to produce Green, White, and Oolong tea. The "type" of tea is determined by the oxidation or fermentation of the leaves and bud.
Black tea is picked, withered, cut and crushed or rolled and is then allowed to oxidize. It is then dried at which point the leaves are black and lustrous.
SNA Tea Company, with direct access to over 40 tea estates in Sri Lanka (Ceylon) and 11 estates in Java, produces some of the finest teas in the world. Why? The answer lies in the unique combination of weather patterns that swirl around the islands of Ceylon and Java. Ceylon is blessed with two monsoons a year. This enables the island to have two quality growing seasons. Java has equitable weather all year making it a wonderful location for consistently fine teas.
SNA through its extensive network of buyers and blenders also obtains Black teas from Africa, South America, India, China, and other proprietary sources.
Single Origin Black Teas:

Ceylon
India: Assam, Darjeeling
China: Lung Ching
African
Indonesia: Java
Argentina

Specialty Black Teas and Blends:

English Breakfast
Irish Breakfast
Afternoon Blend
Earl Grey
Chai

Flavored Black Teas:

Orange Spice
Raspberry
Lemon
Citrus
Mango
Peach
Pear
Strawberry
Vanilla