Barry's Bio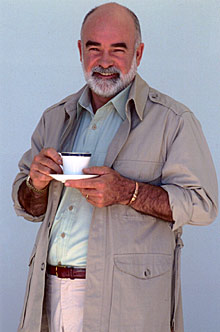 Barry P.W. Cooper is the Founder and Chairman of Cooper's Tea Company. He was born in England and raised in Kenya on a cattle ranch that had a common border with a tea estate and thus began his life-long love affair with tea.
With over 40 years experience of tasting and blending tea, Barry is recognized as a Tea Master in both the Herb and Tea Trades. He is a former Chairman of the Tea Association of the USA and remains Vice Chairman and a Director. He has served on the FDA Board of Tea Appeals as a US Unctad/Gatt trade representative and as a consultant to numerous Fortune 500 companies.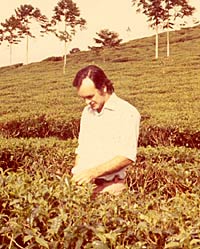 Barry P.W. Cooper
Kenya, 1964

Barry is the holder of a number of tea patents and continues to play a leading role in the development of new products. His blends have won significant awards both in the USA and overseas and he annually travels to the tea growing regions of the world to taste and select the teas for which SNA Tea Company has become famous.

Barry leads the team that develops tea concepts and blends for clients and often accompanies customers on visits to the tea growing areas to explain first hand the SNA advantage.